LAS16 How to inhabit the dense city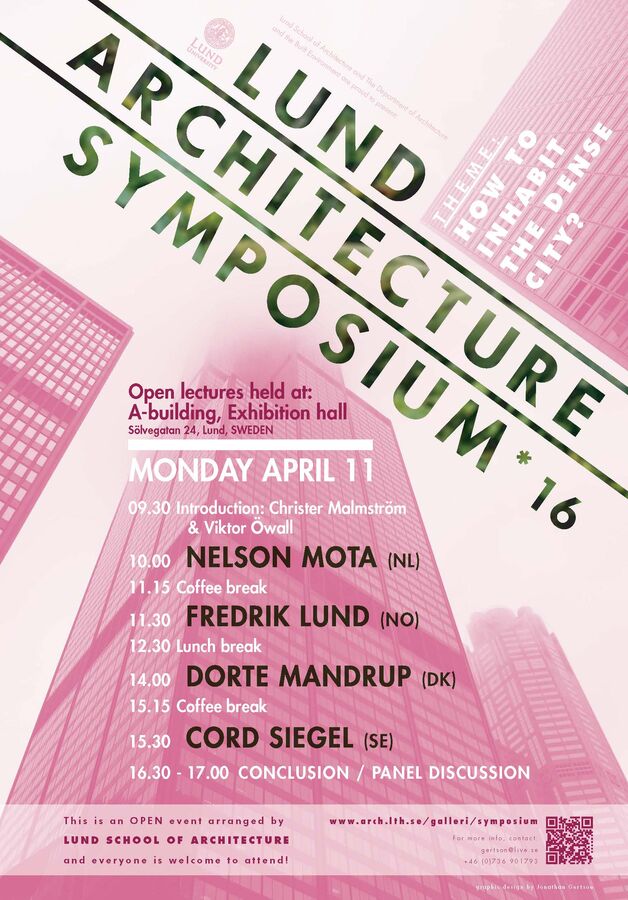 Here you will find our documented lectures for all our guests (published June 1 2016).
Welcome to LUND ARCHITECTURE SYMPOSIUM 2016!
Date: April 11th Location: Exhibition Hall, A-building, Sölvegatan 24, Lund, Sweden
A week from now LAS16 - the annual Lund Architecture Symposium - is held at Lund School of Architecture for the thirteenth time. A panel of internationally renowned architects are invited for lectures and discussion with a given topic as framework.
The theme of LAS16 is "How to inhabit the dense city", which adheres to the challenges of creating architectural qualities in our daily lives in the city. Should we bring known spatial ideas to a new cityscape, or should we invent new ones?
We look forward to an open-minded exploration of this topic where architects from various parts of Europe will give their personal contribution to the matter in form of both lectures and discussion.
You are all very welcome to take part in this event!
Christer Malmström - Head of the School of Architecture, Lund University
THE LECTURERS
Nelson Mota (Lecture 10.00 Mon 11/4) http://www.nelsonmota.com/
Assistant Professor at Delft University of Technology and founding partner of Comoco Arquitectos in Coimbra, Portugal. Nelson Mota received the Portuguese National Prize for Architecture in Wood in 2013 and his doctoral dissertation focuses on the relationship between vernacular social and spatial practices and the architecture of dwelling.
Fredrik Lund (Lecture 11.30 Mon 11/4) http://studiofredriklund.blogspot.se/
Fredrik Lund is a Professor of Architecture at the Norwegian University of Science and Technology (NTNU) in Trondheim and runs a separate architectural practice. He has broad expertise and much experience in both architecture and art, especially in the field of form and composition.
Dorte Mandrup (Lecture 14.00 Mon 11/4) http://www.dortemandrup.dk/
Dorte Mandrup has been at Lund School of Architecture as both lecturer and guest tutor many times before. She is the owner of Dorte Mandrup Arkitekter in Copenhagen and has been received numerous awards, most recently Träpriset 2016 for Råå Day Care Center in Helsingborg.
Cord Siegel (Lecture 15.30 Mon 11/4) http://www.hauschild-siegel.com/
The architecture office hauschild+siegel in Malmö is run by Axel Hauschild and Cord Siegel. They received Bostadspriset from The Swedish Association of Architects for their project Brf Ohoj in 2015 and are mainly working with housing projects in both Sweden and Germany.